Whether you drive a Subaru vehicle or a car, truck, or SUV from another major brand, oil changes are an essential part of regular maintenance. How many miles until you need an oil change? Generally, you want to change your oil every 5,000 miles or six months, whichever comes first.
However, that's not always the case. At Peacock Subaru, we want to help Hardeeville, Bluffton, and Hilton Head Island drivers understand all the ins, outs, and nuances to oil changes. Read on if you want to learn more!
How Often to Get an Oil Change?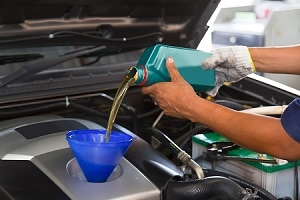 If your vehicle runs on conventional oil and you drive moderately in normal driving conditions, the figures above are a good estimate for how often to change your oil. However, if you often find yourself driving in stop-and-go traffic, extreme temperatures, or on dirt roads, you may need to do it even more often.
Use synthetic oil? You're in luck: Cars that run on synthetic oil can typically go longer without needing oil changes. You'll often be able to drive 7,500 to 15,000 miles between oil changes, depending on the make and model of your car.
How do you know what's right for your vehicle? Check the maintenance schedule in your owner's manual. There, you'll find the interval recommended by your car's manufacturer for the best results.
How to Check Your Oil
If you want to be even more proactive, you can always check the condition of your oil yourself. You'll need to raise the hood, locate the oil dipstick, remove it, and wipe it down completely.
Then, reinsert it for a few seconds and remove it again. First, you'll want to check the condition of the oil. If it looks thick and blackened, you should schedule an oil change ASAP. For best results, your oil should be amber in color, translucent, and smooth to the touch.
Next, you'll want to check oil levels. Make sure the oil level on the dipstick falls somewhere between the "max" and "min" lines, and you should be good to go. You can top off the oil if you're getting a bit low.
Why Do You Need Oil Changes?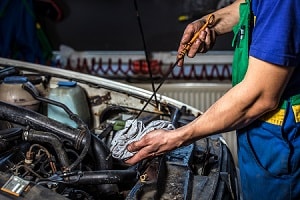 Why take time out of your busy schedule to get an oil change? It's a service that doesn't take long, and it can save you plenty of time (and money) down the road. Your car needs fresh oil to keep the metal parts inside your engine from rubbing up against each other and building friction.
Excessive friction wears down the parts quickly and can cause the engine to overheat. Left unaddressed for too long, it can lead to serious damage to your engine. Besides being a safety hazard, it can require a costly engine repair or replacement, so you're much better off changing your oil according to schedule.
Schedule Your Next Oil Change with Us
Now that you know how many miles until you need an oil change, you'll be prepared to have your engine oil changed on a regular, healthy basis. If it's been a while since your last oil change, feel free to schedule your next one at the Peacock Subaru Service Center.
Our team of highly trained, certified technicians will hook you up with some fresh oil as well as a new oil filter. Before you know it, your car will be ready to take on the roads of Hardeeville, Bluffton, and Hilton Head Island with renewed confidence!